News
There's nothing we enjoy more than sharing the good news about our wonderful students and staff members—and we have a lot of great things to share! Read all about student and faculty awards and accomplishments, past happenings, upcoming events, and more from the comfort of home or on the go.
Strengthening Families Program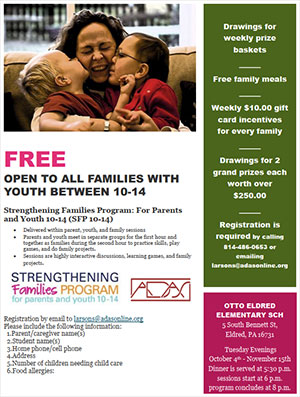 We invite you to participate in our Strengthening Families Program for parents and youth aged ten to fourteen. Parents and youth meet in separate groups for the first hour and together as families during the second hour to practice skills, play games, and do family projects. There will be drawings for prizes and free family meals. Please view our Strengthening Families Program flyer for details!
Parent Educational Support Group
The IU9 Local Task Force Parent Educational Support Group is calling all parents!
What is LTF?
The local task force is a group dedicated to special education rights. It is a place for parents, families, school districts, community agencies, and students to come together. IU9 Local Task Force includes districts from Elk, Cameron, McKean, and Potter counties.
They hold monthly meetings via Zoom, call-in, or in-person. Meetings will be held in Elk, McKean, and Potter counties. For more information, please view the LTF overview flyer or contact Ashley (Sterbank) Olson by email.